It's hard to believe that I haven't added anything to this blog since January (and it's now May). We left the Isle of Man in early February with an uneventful trip back to France. As usual, at the security post for the ferry in Douglas, we paid our "bribe" of one packet of Jelly Babies! (We always travel with a full car and the price not to have to offload everything is a packet of Jelly Babies – though I'm sure they would make us unload if they thought there were any problems! We must have innocent faces!)
After crossing the channel, instead of heading back down to the Paris area, we diverted through to Lille in northern France because M-D's nephew is a dentist who practises there and M-D is undergoing an implant procedure at the moment. Naturally, it gave us a chance to see Christine (M-D's sister), so we passed a pleasant evening there before heading south.
In fact, we made a return trip to Lille a couple of weeks later (again, mainly for dental reasons) but whilst there were invited to an "Evening of Couscous" with some of Christine's friends (who we also know). I'm not a great couscous fan normally, but this one was quite exceptional and, along with the wines and conversation, made for a pleasant evening.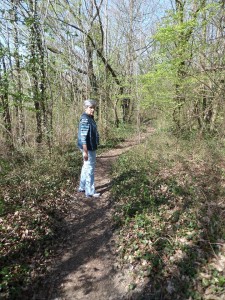 Things are quiet in France at this time of the year. Initially, the weather was unsettled but, by the beginning of April, the sun came out and we were able to get some walks in the forest. The Forest of Saint-Germain-en-Laye is a relic of a more ancient Forest which became a royal domain and hunting grounds of the Kings of France who resided at the Château de Saint-Germain-en-Laye. Henry IV and Louis XIII of France often used the forest for fox hunting. It's a forest of 35 km2 which lies in a meander of the River Seine and is composed of mainly oak and beech. It is now bordered by built up areas and divided by communication links but has the advantage of being just 300m from where we live! Within a couple of weeks, there will be little blue sky to see as the canopy fills in for the summer.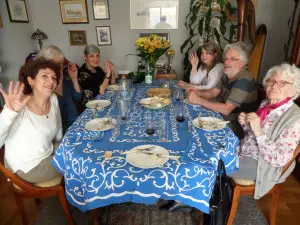 A couple of weeks ago, Marie-Danielle's cousin, Nadia, came to see us from Bordeaux for a couple of days. During that time, we served her and her husband, Michel, Leg of Lamb in Deep Rich Gravy and also Monkfish Medallions a l'Orange. On the third day, we invited Nadia's mother (M-D's aunt) to join us for lunch. She lives on the outskirts of Versailles, so it's just a 20 minute drive each way to get her. Also, M-D's cousin, Jean-Louis, and his partner, France, joined us for lunch, so we were a table of seven.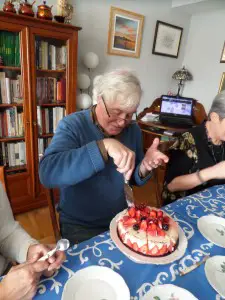 After a long "appero" where everybody did a bit of catching up, we served Filet Mignon (Tenderloin-of-Pork) with Sage and Rosemary which seemed to disappear fairly quickly, so I guess everyone was happy with that. After some delightful French cheeses, Jean-Louis was voted the man to cut the cake which "Aunt Suzanne" had brought with her. A lovely raspberry gâteau with fresh cream… Mmmm!
So now we're back to being just the two of us for a couple of weeks while we amalgamate all the stuff we're taking back to the Island with us. Normally at this time of year we take the plane, but there is so much stuff that we need to load the car again! At least it means that, during the summer, M-D will be independent of me while we are on the island. My car is too big for her, so she's not comfortable driving it, but her B Class Mercedes carries a lot of stuff and is easier for her to drive than my old "Elegance".
Our summer is already fully booked! Just two days after arriving, my neice, Sally, and her lovely family are coming over. As soon as they leave, the Isle of Man TT races begin and we are doing "Homestay" like we did last September. Already, we are fully booked for the fortnight. After which, we get a whole two weeks to ourselves, then M-D's former boss (when she worked in Belgium) is coming over, with his wife. After a few days sight-seeing on The Island, we are going to do a Scottish tour with them (and guess who's driving!!!)
After they go back, we have just one week before Ian, my elder son, and his parner, Caroline, are coming to visit us… I'm looking forward to that one! But as soon as they leave, we have our two French granddaughters and a friend staying with us virtually for the whole month of August. And, as I type this, M-D is on the phone to someone who stayed with us for last year's Isle of Man Festival of Motorcycling (used to be called the Manx Grand Prix) and who wants to "book us" again this year! And that would leave us just 4 days before we head back to France again in early September! Nothing like being retired, is there!
While here in France, we've (naturally) made a couple of little excursions across the road to our "local" (Happy Sushi) and in fact we plan going again this evening. I also confess to enjoying many of the splendid culinary delights that are on offer here, which we don't find on The Island. Things like plump duck breasts (from the ducks that provide foie gras). It's actually fun exploring the supermarket shelves. Did I really just say that?? – Sounds like it's time to close this post!!